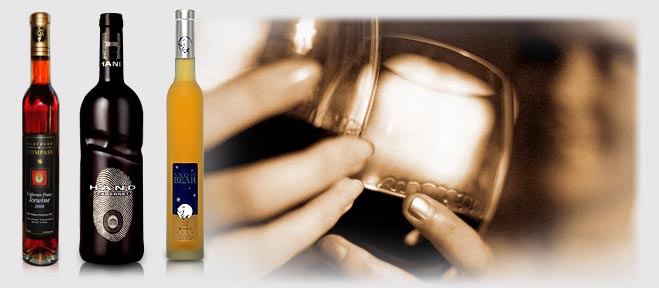 QANUK ESTATE & NORTHERN COMPASS VQA DESSERT WINES
Oeno Terrae's 2 Wineries are located in 2 distinct regions of Canada which are re-known for their unique climatic and soil conditions. These regions are Canada's fame Niagara Peninsula in Southern Ontario and Annapolis Valley in Nova Scotia in the Eastern part of Canada.
Our portfolio of VQA wines includes Vidal and Riesling Late Harvest as well as Vidal, Riesling, and Cabernet Franc Icewines. Our icewines are produced from grapes that are left to freeze on the vines well into the cold Canadian winter months. The resulting cold weather dehydrates the fruit and concentrates the sugars, acids, and aromatic qualities of the grape, increasing the flavours and adding great complexity to the Icewines, earning them the rights to be called the "Elixirs of the Gods".
MUWIN ESTATE GRAPE DESSERT WINES & FRUIT WINES
Our Muwin Estate grape wines and fruit wines are produced in the Annapolis Valley in Nova Scotia, Canada. Our grape dessert wines are made according to a unique method of winemaking that concentrates and enhances the natural sugars and aromatic qualities of our varietals to deliver very high quality products such as Vidal, Riesling, and Cabernet Franc dessert wines.
Our fruit wines are produced from luscious crops of fruits such as apples, blackcurrants, raspberries, and wild blueberries hand-picked at our farm and neighbouring estates. Leaning on Nova Scotia's fame for pure natural fruits, our Canadian fruit wines are made according to the high Canadian Fruit Wine Association production standards and are a true expression of Canadian quality, health and innovation.
UNIQUE WINE OFFERINGS
We have a very unique selection of dry wines and dessert wines from New World regions and the old vineyards of Europe. Our portfolio of unique wine offerings includes Chilean Sauvignon Blanc and Malbec Icewines, Chilean health red wine, Italian Chardonnay and Cabernet available in a very unique hand shaped bottle as well as other dry and dessert wines from various regions of the world including Argentina, Australia, France, South Africa, and Spain.